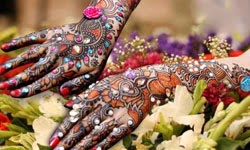 Mehndi designs
or Henna Hand Art is very popular folk art in Asian women. Famous in Asian countries like India, Pakistan & Middle East, Mehndi designs are put up on hands & feet on festive occasion. It is a renowned form of Asian tattoo. Any Indian bride is incomplete without Mehndi design on her hand. Here comes some lovely designs to try on!
Mehandi is mostly applied during Hindu festivals like Karva Chauth, Diwali, Teej and by Musilms on Eid-ul-Fitr and Eid-ul-Adha. Mehndi designs are known by name of Henna in western world where it is used as some embellishment of body. Mehndi designs got popular in west during the late 1990s. But in spite being the native art of Asia, it is quite famous in Asia too. It takes various forms in Asia too such as Marwari, Rajasthani, Pakistani & Arabic, named after geographies.
Mehndi is used to embellish the body. It is applied on hands, palms, legs and shoulder or wherever we want the tattoo carved. Every form of mehandi design has its uniqueness, for instance, the Arabic style mehandi design generally incorporates bigger floral designs and does not cover the entire hand, as opposed to Indian designs which use smaller and finer floral covering the entire hand. & not to forget bridal Henna art which consists of faces of bride & groom along with religious symbols like Kalash, Nagara(drums), Swastik & Doli!
We have also published a collection of the 50+ awesome rangoli designs. Got a party ahead, function or upcoming family event? Then this is a must check list of mehndi designs before you apply henna! Don't forget to share these on social media.
So come, let's beautify ourselves this festive seasons this festive seasons!
Here are more beautiful mehndi designs and henna designs.
Beautiful Mehndi Designs (Henna Hand Art)