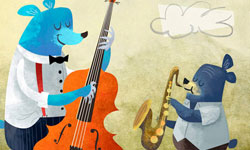 Retro style incorporated vintage design style. Finding varieties of illustrations and drawings is quite easy these days because of web. Few months ago we've published an article regarding
beautiful illustrations
and a tutorial of giving
cool retro analog effect to your photos
. Today we have comes with some beautiful retro style illustrations. These illustration works represent many different styles and are truly inspiring. Enjoy!
Beautiful Retro Style Illustrations for Your Inspiration
They're gonna recognize my eyes

Girl sitting by old radio

We would, as usual love to hear your opinion in the comments section.