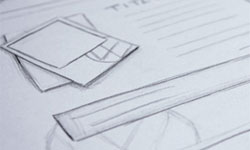 The general understanding of the word 'Graphics' stands for pictographic or pictorial representation of data or information. A celebrated adage says that 'A picture is worth a thousand words' and it's absolutely true that a picture can speak better about your ideas and express things in a vivid and precise manner than the exact words can.
For example, you'd like to put a smiling face of a baby for Diaper Company's website. This situation can simply be explained by putting the photo of a smiling baby wearing that particular brand's diaper. If you are to explain this in terms of words, you should be elaborate and describing it as 'the baby smiles because it has put the diaper of your company, so and so. See how a picture has extremely made the task simple and straightforward for you. The similar case efficaciously applies even for a website that is the sole online representative of your business. Now you will surely be interested in knowing the basic steps of designing and developing a graphic web design.
1. Know who your ultimate users are: Website is designed to assist and facilitate the ultimate user to have trouble-free access to your business. It is not very important that the graphic web design should be fulfilling and pleasing to the designer or to the client but eventually to the target audience for whom the business is run for. A detailed discussion with your client can aid you in understanding the needs and preferences of the end users. Say for example you are designing a website for a Sports Apparels company; the target group is youngsters and all you need to ensure is that the website is designed with vibrant and colorful graphics that attract the young people.
2. Ensure that your design serves the specific purpose promptly: Every firm has its own objectives, goals, desires and specific functions to perform. The graphical web design should always target in bringing and drawing the users close to the precise functions promptly without deviating their thought by exaggerated designs or overuse of graphics.
3. Decide on your simple, elegant and impressive graphic designing: The most significant thing that you need to do is to take a call on the specific graphic designing pattern for your website. Let your design be simple, imposing and pleasing to the user's eye. This is because only a straightforward and appealing design can help you bind a relationship with the visitor and act steadfastly in converting him as a promising customer.
4. Pick the most efficacious layout: You may have millions of ideas but the way you put it effectively speaks for you at the right time in the form of a perfect layout, which is nothing but the arrangement or synchronization of all your data, graphical presentations and much more. Your graphic web design doesn't need to say much but can hit the nail on the head if it has an ideal order of putting things in a better manner every time.
5. Put in complete efforts in making your design comprehensive: The website that you design is the lifeblood of a business and it cannot be crafted in a 'just like that manner' or by putting in place certain attractive images or other pictorials. A collective thought process can assist you in determining a comprehensive design that gets complete only with the basic aspects like content, layout, typography, colors used, font types, effective usage of white space and the way you deliver things ultimately.
6. Concentrate on things to be avoided: An exemplary graphic design is a blend of essential elements and the right pick of things to be completely avoided. Few such aspects to be avoided in a graphic web design are excessive use of boxes, inappropriate or irritating colors, inconsistent format, overuse of boxes and underlines, tomb stoning (arrangement of headlines, subheadings appearing parallel to each other in adjoining columns disturbing the reading experience of the user), hovering headings, unnecessary spaces in between the text breaking the bond of the content etc.
These are the basic steps of graphical web designing, which is the simple way of enhancing readability, user experience and gives a perfect finish to the website.
About the Author
Brian Taylor is the Project Manager, VP at Forix, a web design company based in Portland, OR. Forix specializes in web design and development for small, medium and large company websites, e-commerce systems, developing mobile applications.