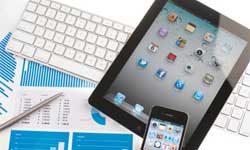 The mobile internet market is growing at an extraordinary rate. Today in the U.S alone, some 60 million people mainly do their internet browsing through mobile platforms like smart phones and tablets. By 2014, this number is expected to grow to 90 million users. Since mobile browsing platforms don't display websites the same as the regular PC/laptop screen does your site needs to be specially designed or converted for mobile compatibility. Failing to do this with your website is excluding you from an ever expanding segment of your possible target audience. This is a bad idea from a business point of view and its completely avoidable with a few easy steps you could take.
1. A few starting tips
Having a mobile friendly website does not necessarily guarantee that the content itself will display in a way that's functional for mobile devices. What you have to do is format both for mobile capacity so that they and the diverse machines they're read on all mesh effectively for your readers. It should also be noted, as a basic condition of easily creating a mobile website, that you need to focus on making the site as simple as possible as; typically much simpler than a PC-ready version of the same site.
Take Facebook as an example; the actual site is quite complex and dynamic; the mobile version contains the same basic functionality but presents it in a much simpler scrolling format. This is because the smaller screen size creates a need to focus on making your text visible and this naturally cancels out many decorative and non-functional design features.
Two basic rules that should be kept in mind with mobile sites:
• A mobile site isn't just a miniature version of your regular site; it has its own distinct design.
• Simplicity is your best friend, your site should emphasize important information, be easy to navigate and contain large buttons that quickly get you to the key site sections.
• Your site should take advantage of a mobile phones built-in abilities and provide your customers with features like click to call or mapping and location information.
2. Use an online mobile conversion service
Quite possibly the quickest and easiest way to create a mobile ready website out of your original web pages is to use an online conversion service that simply takes the content of your original website and converts it into a mobile version.
With these third party services, which typically charge an annual or monthly membership fee, you typically write in the URL of your original website on their service page then wait a few moments while they automatically convert your content into a mobile friendly form and give you a new specialized URL that applies to the mobile version of your site they've just created.After that these companies also offer a specialized redirection script which you can apply to your regular website so that mobile visitors that type in its URL or visit it, automatically get sent to the mobile version.
These mobile conversion services include companies like bMobilized.com and Google's own www.howtogomo.com. Both of them give you a fast automatic conversion and access to a control dashboard for your mobile site where you can modify its appearance and other settings without programming knowledge. Also, both Google and bMobile charge a series of low monthly fees for their service.
3. Use a mobile friendly template based hosting platform
There are hosting services out there that allow you to create your own platform based domain and website (as a difference from conventional hosting where the domain has to be bought as your own separate property). These platform based domain hosting services can also allow you to create quick, easy drag and drop mobile friendly websites that look perfectly professional and can be set up in very little time without programming knowledge. One service that offers just such a thing is SquareSpace, which offers from a selection of built in templates and charges a low monthly fee for their services.
4. Mobile friendly templates
If you want to use something slightly more hands-on in creating your own mobile site either from the ground up or creating a mobile version of your existing website, you've also got the choice of easy to use templates that are designed for mobile compatibility. These are available for CMS (Content management systems) such as WordPress, Joomla and Drupal.
The process is very simple: you buy and download to your computer a mobile friendly template from one of the many providers that sell them online (AllWebCo Design, Template Monster, ThemeForest, Code-Canyon and just about any other web business that sells templates). Prices can vary widely but will rarely go over $100 for access to a range of themes.
Once you've bought your themes, you install the WordPress CMS to your domain through your hosting providers control panel and then use an FTP program to transfer your theme's files right into the WordPress content file of your websites WordPress database within the hosting. After this is done, access your new WordPress website dashboard that's now attached to your domain, visit the "themes" panel and install your mobile friendly theme; converting and tweaking your websites design from there as you would with any other theme.
This is same process basically applies to the other CMS like Joomla and Drupal; WordPress is just the most widely known and easiest to use of them; it also has the largest theme library for more options.
An even lazier approach than installing and setting up a mobile friendly theme is to download a mobile modification plugin through your WordPress Dashboard and use it to modify your existing Website design into a mobile friendly series of pages. Again, programming knowledge is unlikely to be necessary.
About the Author
Richard Tucker has been writing about web design and digital business solutions for several years. When he's not writing, Rich works as a mechanical engineer, designing energy-efficient elevator replacement parts.