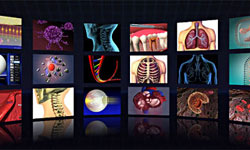 Popularity of internet attracts lots of people even non-technical ones to use internet for various purposes, both commercial and personal. Having a professional website is a must in the world of internet. Without design skills, time or a huge budget it is impossible to make one. However, website templates are rendering great services for non-technical and budget people to make great websites for their purposes and save time, effort and money. Web design templates can be mind blogging but with some easy and simple tips it is very easy to choose the best one.
A clear knowledge about the goal of the website is a must while adding templates. Website's purpose, its visitors and scope in the website for the visitors are some simple points to consider.
Website's type
A site's structure, look and feel are determined by the template of the site. Its look depends highly on the type of the templates. It gets a different look according to the type of the website. Every site is different from each other, no matter whatever the type of the site is- single page site or textually rich site or product catalog site. An online lingerie store, for example, will have a different look and feel than a photographer's portfolio, a church site, a real-estate company or a sports team site. Website template should go hand in hand with the structural and stylistic requirements of the website.
Layout
How the information will be structured in a website is determined by the layout of the site. Web design templates that go exactly with the site and don't require lots of changes are the best choices for a website. Determining the structure of the home page and the interior pages is a must.
Flexibility
The templates should be flexible and allow their users doing everything with their websites' content at present and in future.
Customer Support
Website templates must be supported with 24/7 available expert. No matter how easy and simple to use and update the templates are, someone should be available with his experience to help the users. It is always better to check the user friendliness and the tech support of the website. Free websites may not have customer support available for 24/7. So it's better to buy theme from a reliable provider with an instant customer support.
Customization
The templates should be customizable ranging from color and font selection and adding company logo all the way to adding multimedia and flash animation in order to reflect the existing brand. The template should exceptionally be easy to navigate. It should allow fast downloading and be search engine friendly.
Professionally Designed
Choices are myriad from free to various costs. The best one always balances professional design with usability. Guide the viewer to a desired action is the goal of a website. It should be good looking, easy reading, fast downloadable, readily accessible to search engines and friendly to all web browsers. Without making perfect union between design and usability, a website can not buy many friends or customers.
There are number of sites such as Tampa Web Design that offer great service to the customers in choosing website templates and other services.
About the Author
Donald Bates is a website designer who is working for Tampa Web Design Company for last 3 years. He loves to help fellow designers and business owners sharing his knowledge and experience. He offers website design services via www.mdesignmedia.com