Are you looking out for a refreshing option for your current web design? Do you spend too much time searching for individual icons separately? If so, don't worry. Here is a list of the 10 best classy icon packs for every designer. This is the most affordable and simplest way to customize your new project. Go through the following list and choose the best suited icon pack.
Flatilicious – 1000 Delicious Flat Icons
As the name suggests, the Flatilicous icon pack by Pixel Bazaar has a delicious set of 1000 flat styled icons. Flat icons are two-dimensional graphics layouts with a simple and elegant look. This icon pack is divided into 28 categories including arrows, emotions, food, web interface and many more. Based on geometrical shapes, these icons will enhance the look of your website giving it a modern unison look. The icons are designed with high level of detailing, making them look sharp at smaller sizes and even on scaling them. Available in 3 file formats – AI, SVG, and PNG. Easy to customize the colors to adapt to your on going project.
---
Icontastic Mega Bundle of 5300 PNG and SVG Flat icons
This mega bundle of 5300 PNG and SVG flat icons by Inmotus will put an end to your hunt for the best icon pack. It consists of 391 different categories comprising of  everything you can imagine of. You can use these icons almost anywhere and everywhere including banners, websites, presentations, social media posts, apps, and other promotional material. You can use these icons for your own projects or for client's projects and make them more attractive. CyberChimps is currently offering a 80% discount deal on this bundle.
---
If you are looking for something that would give your project an edge with simplicity and uniqueness, then Moji's 600 icons bundle is the right option for you. This pack includes 600 colored scalable vector icons in 9 different categories like people, emotions, gestures, objects, animals, travel, food, activities, and nature. The icons come in Master AI, SVG, and PNG (sliced in 50px, 100px and 150px sizes) formats. These modern unique and quirky icons are sure to enhance your social status.
---
Icomoon's Essential & Ultimate Icon Packs
Icomoon offers three different icon pack plans – free version with 490 icons, essential pack with 950 icons and the ultimate pack with 1600 icons. All these packs include precisely handcrafted 16×16 grid icons in various formats like SVG, PDF, EPS, Ai, PSD, and PNG. You can also install Ligature Font (TTF). Using ligatures, a word can be associated with a font glyph. Icons in this pack are available in both raster and vector format. You can use these icons for both personal and professional projects.
---
Round Icons – Full Icons Bundle Access
Icons bundle by roundicons another example to showcase your website as a creative, artistic and elegant. This bundle gives access to 17 icons and illustration packs. Round icons collection grows day by day as the team adds 500 new icons every month. So, there is a lot of various categories. This is the biggest and diverse bundle available in the market.
---
With Swifticons, you will get a remarkable premium set of over 2500 icons. They are high-quality icons available in 23 different categories including food, science, nature etc. These icons are can be used beautifully in 6 editable styles. The same set of icons comes in different styles such as: Outlined, Filled, Colored, Jolly, Pattern and Flat. Every icon is precisely built with the grid of 60px. Icons are available in various formats like PNG, EPS, PDF etc. if you are looking for an option to enhance your site, then make use of these icons and improve your presentation.
---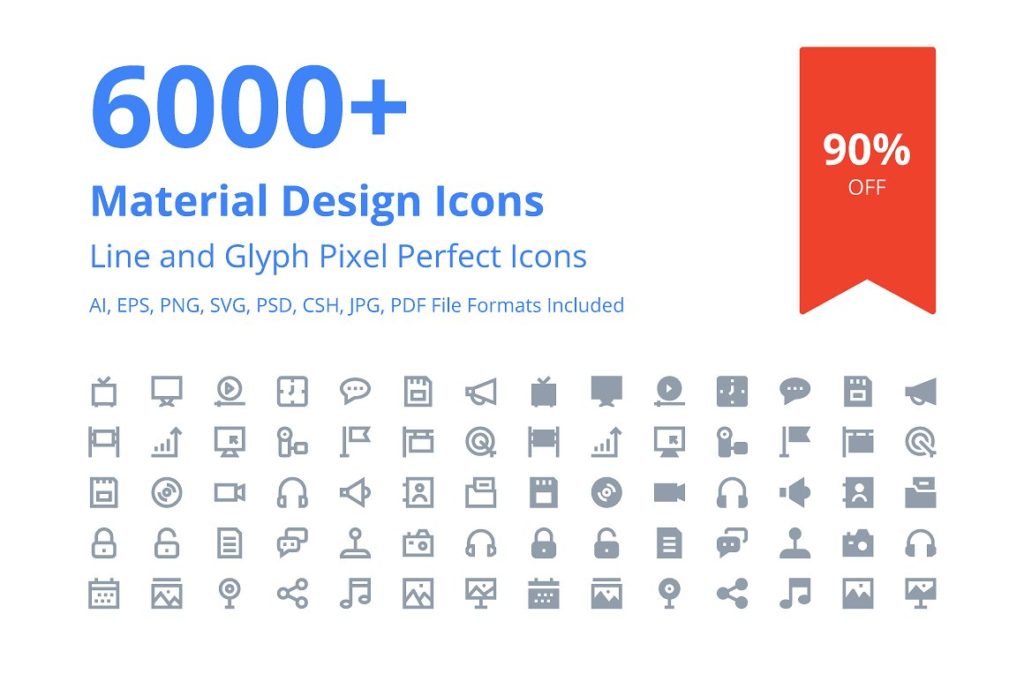 There are hundreds of amazing icons packs available in the market. It's always difficult to search for a tool to customize a site. '6000+ material design icons' is one such option to make your site look beautiful. The pack contains more than 6000 icons which are based on the 24px grid. These icons are available in 32 different categories. Icons are available in 8 file formats like AL, EPS, PSD etc. moreover, these icons are fully layered, grouped, and customizable. You can choose either line or solid icons as per your requirement.
---
As the name suggests, this is the ultimate icon pack which incorporates 1500 vector icons for interface design and prototyping. This is the most usable and complete icon set available in the market. It is meant for UX designers, who can include their favorite wireframe design and rescale the icon as per requirement. Graphic designers can customize icons from vector source files. and developers can make use of ready PNG to in the web application.
---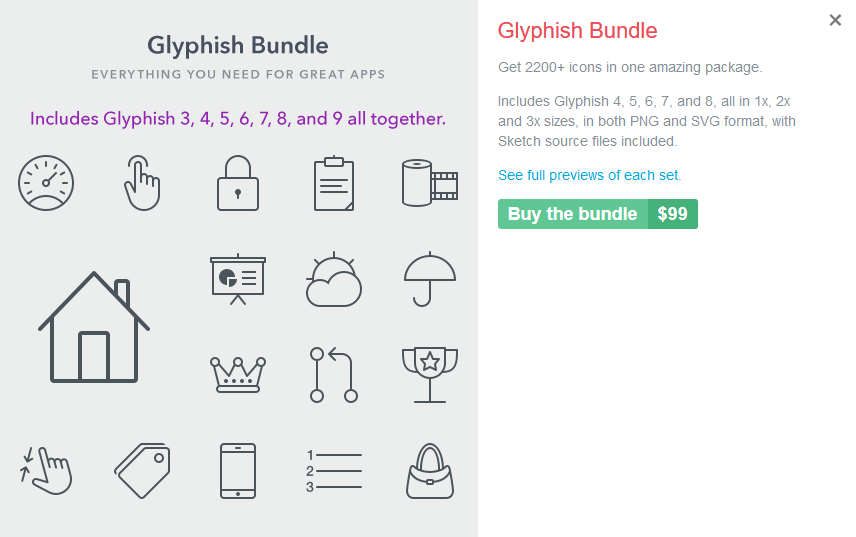 Glyphish icons are used for ios tab bars, tool bars, table rows, androids, windows, t-shirts, and tattoos. Each set includes about 2x and 3x sized icons for crisp rendering. Each icon is bundled as a PNG ready to drop into Xcode, to use SVG for the web, and many other options for customization. These icons are sharp and flexible, scalable. So, you can use them to design your site giving them the variety of display size and pixel density. Glyphish bundle consists of Glyphish 4, 5, 6, 7 + 8 together. There are around 1600 icons to beautify your site.
---
Innovicons Color Icons Full Bundle
An excellent, innovative, stylish icon bundle named Innovations will help you make your site look better. It is a collection of 33 sets of around 300 items. These items are meant for various categories like business, finance, book store, industry etc. these icons are available in different formats like EPS, JPG or PNG. The file incorporates editable stroke thickness.
As you all know, this is just a crisp smaller list of available variety of icon packs. They are very simple to install but, if you want to test different icons, first install a launcher which will your process easier. Enjoy!