If you are reading this article, it's safe to assume that you're into web design and you've most likely heard about website builders more than once. Chances are, you think they are for babies. Are they?
I do know a handful of people who are strongly convinced that homepage builders or site construction kits or whatever you might want to call them are nothing but overly primitive hosted services with clunky interfaces and very limited functionality. But I also know hundreds of people who use these tools to get their work done faster, without sacrificing quality. Interestingly, most of them make a living developing websites for their clients.
Today's website builders aren't just for bloggers, photographers and small business. They've become elaborate, feature-rich tools that appeal to both beginners and professionals. In this article I'm going to share some of my favorite site builders that give the freedom to design whatever you want in addition to the ready building blocks they provide for non-techie users.
uCoz
Behind its outdated interface, uCoz is an incredibly flexible publishing platform that is not less feature-rich than locally installed software. It's a system of fully customizable modules which support such complex features as user management, forum management, eCommerce, blogging, polls and more.
To start a website you need to create an account and select the appropriate modules from the list provided. There are 23 modules, each responsible for implementing certain functionality. Suppose your goal is to create a personal blog. In this case you certainly need to enable the Blog module and Social Media Publisher. Optionally, you can add Forum, Photo Albums, Web Polls or any other module.
Once installed, these modules are ready to use. Each module is chock full of customizable options. If the desired customization isn't covered in the list of settings, you can get under the hood. uCoz opens up some of the technologies that in most website builders are hidden from the consumer-side of the platform, providing full access to the HTML and CSS. Thus, you can get more control over your work.
While under construction, your website will be placed on a subdomain (sitename.ucoz.com). You can connect a custom domain name without having to upgrade your account.
Pricing. uCoz is a freemium service, meaning that you can use it free until you decide to unlock more features or get rid of the advert which is placed on all free uCoz-powered websites. Ad-free sites start at $5.99/month. For that price you get the builder itself, secure hosting, templates and support.
Squarespace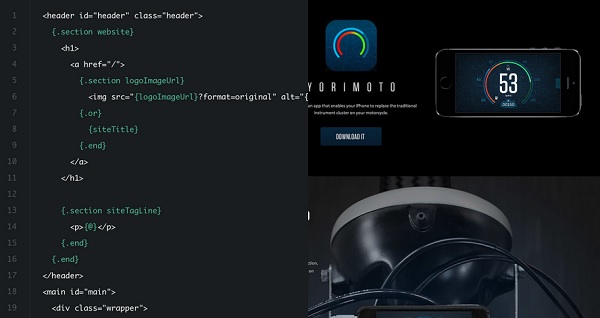 Similar to uCoz, Squarespace doesn't solely aim at end users, but also targets designers, devs and entire agencies. Recently, the builder survived a major overhaul, so now it's even easier to use. The new Squarespace supports on-page editing – you can edit articles, menus and even products in your Squarespace store right from the front-end.
Whether you're a target user who has no idea about how websites are being made, or you're an experienced developer, you'll be surprised at how flexible and feature-rich the builder is. For beginners, they offer a collection of high quality, customizable themes, some 'created in collaboration with a few of the world's most influential people'. Their design and functionality can be easily customized in a WYSIWYG editing environment.
For pros, there's the Squarespace Developer platform. It lets you customize the code behind any Squarespace-powered website using the tools you're familiar with. All templates are exposed via Git, so you can invite multiple contributors and roll back changes easily.
Pricing. Squarespace packages range from $8 to $24/mo (billed annually). The aforementioned Developer Platform comes as part of the Professional ($16/mo) and Business ($24/mo) plans. The Personal plan ($8/mo) doesn't include the use of the Developer Platform. You can start with a free 14-day trial.
Designers like lots of things, but first and foremost they like the ability to bring their ideas to life, the freedom to design whatever they want using the tools they're used to. That's one of the reasons they don't take homepage builders seriously. Of course, there is some strong reasoning behind such a point of view. The good news is that site builders are getting better and better, morphing from primitive page builders to feature-rich, scalable platforms.
Have you had success using a website builder?
Bio: Howard is the founder and owner of SuperbWebsiteBuilders. He mostly spends his time reviewing website builders and creating sites.