Information Technology professionals are great at many things: analytical thinking, problem solving, data analysis, and programming. But, if you're looking to climb out of your cubicle and up the corporate ladder, you need to spend some time cultivating skills that have nothing to do with technology.
Leadership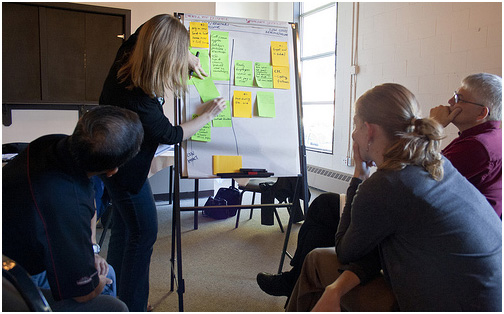 Image via Flickr by The Natural Step Canada
Whether you're looking to supervise a team of three people or manage a department of 300 people, you need the skills to motivate and support others. Leadership does not always come naturally among the technologically inclined, and many basic IT courses fail to teach management and leadership skills. While working in your current position, consider upgrading  with an Online Management Information Systems Degree. These courses, specific to the IT industry, focus on empowering staff and building a consensus among employees for effective teamwork.
Communication
Image via Flickr by NASA Goddard Space Flight Center
As you probably know, not everyone is fluent in tech-speak. But to sell your great ideas and advance your career, you need to learn to communicate technical information in a way that makes sense to people outside your field. Practice explaining your work to friends or family members, and don't shy away from opportunities to present projects within your company. The stronger your communication skills, the more visible and valuable you'll be to your boss.
Networking (With People)
Image via Flickr by Fruitnet.com
No one gets ahead on his or her own. You can't isolate yourself at work and then expect your co-workers to support you when you want to take on a greater role. Form a mutually supportive relationship with your boss, or a find a mentor at your company. You should also develop a professional network outside of your office. Keep your LinkedIn profile up-to-date, attend professional conferences, and join professional networks and organizations. These external connections are a great source for advancement opportunities and for staying current with the ever-changing trends in the technology industry.
Business Knowledge
Image via Flickr by Dave Dugdale
Want to really impress your bosses? Show an interest in their business concerns. While you may know all about the goals and challenges that your team faces, learning the budgets and strategic plans of the entire business will set you apart from your colleagues. Not only does this show responsibility and initiative, but it will give you the insight to formulate and present ideas that are relevant to the current state and challenges of the business.
Goal Setting
You're probably great at this when prioritizing projects and setting deadlines for completion. But applying those skills to your life and career can re-ignite your enthusiasm and generate great success. Start with what you're passionate about and what kind of career trajectory will bring you the most satisfaction, then plan the steps to take you there. Having goals and targets will keep you moving forward along your career path and prevent you from floating aimlessly through your professional life.
These five skills will help make you a well-rounded employee and much more valuable to your bosses. Additionally, these skills will bring you greater job security, career empowerment, and more advancement opportunities.