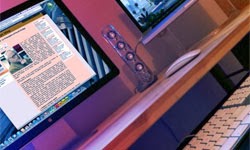 Everybody, in today's era, is a voyager of fast changing trends, especially when it comes to web design field. To non-web-design person, it might seem like piece of cake with cherry on it. But thanks to unexpected coding issues, changing demands of customers & workplaces you do not even deserve to have! Due to these issues, your project takes longer than you expect. Sometimes even client seems to be in the fancy moods for their designs. So to overcome these hurdles, you need to be organized which means to improve your web design workflow. Using some simple tips given here, you can surely rock web world. And no doubt, with practice, you get more & more skillful day by day!
Use Free Resources
Free is the famous word on web world. There are plenty of free things waiting for you on the internet such as free Photoshop patterns, free templates, free fonts, typography options, free tutorial & what not? So have them handy on your workstation. They surely show you a way out of nothing for your project & increase your productivity!
Acquire the New Skills
Developing the new talents& acquiring new skills will be tedious at the first. But once you get in the cart, it races at exponentially pace. Do not just learn these technique, get educated by them & you will know what they are capable of & where they could get you! While acquiring them, also think of your flaws. Are they in your planning or outlining? Do you stick to your traditional method which consumes time or try new one which gets you there faster? Do you try to make every project unique? Are you friendly with organizing folders & files? Think about where you can improve & work on it.
Planning – Divide & Rule
The most important part of project is planning. In a single project, there could be various tasks to seek your attention. And the one thing you can do at last is divide them as per your convenience & priorities & rule your project. It's a secret potion of your success. From now onwards, when you switch your laptop on, do ask yourself if you are done with following things -defined success, defined content, defined features, defined ideal customer, research and organized and prioritized layout. Now you do not only know where to start race, you also own a key to finish it.
Customize Your Workspace and Tools
So here is the deal, you cannot always be comfortable in every situation. You need your workspace to be customized to help you speed up you work. But many of us won't bother about this thing. It's not only workspace; it is also about having your own customized web tools to design unique things out of nothing. For instance, take Photoshop. Sure it's a king of tools you have. But take some time to create tool palettes, folders & panels so they are easily available to you. With such an ease, you help yourself reduce your work time by few minute a day & of course, some hours in a week!
Shortcuts – key to success!
Most of us have learned in our childhood that there are no shortcuts to success. But yes, there are. Most of the programs have built in shortcuts &it is insult of those if you do not use it. You miss a fantastic way to increase your productivity with them. Again, you have to give some time to be friendly with it. But results you get are always faster. Once you have a rhythm when working with these shortcuts, they take your design on the high note! Keyboard shortcuts do allow you a smooth & hurdle free experience. You do not have to click or use mouse constantly. . If there isn't a shortcut already available, try and make one for any process you use repeatedly.
The list of the tips & tricks is never going to stop here. But yes, these ones will surely get you out of the mess! So follow & rule the web world!