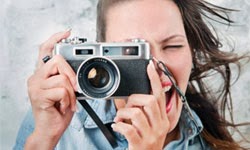 Photography is one of my biggest passions, which you would probably figure out in an instant if you visited my home. I have my photographs everywhere, as well as all of the bits I need to get the best shots. Now that we're coming up to the New Year, I'm starting to think about how I can include my passion within my January resolution. That's why I'm considering how to use my photographs to better effect, without making my home look chaotic like it is now! I've been doing a bit of research with I thought I'd share with you – it's all about ways to use your photographs…
Sell them
If you want to make a bit of cash from your hobby, you could look at the different ways to sell your photographs. Whether you go down the route of stock images or
printing onto a photo canvas
and selling through your own online shop, there is potential to make a profit.
Print them
To simply decorate your own home, go ahead and find a good printer to show your images in their best light. There are many things to consider including whether you want them matte, glossy or on a poster print, never mind about the frame you'll choose! Of course you could also have your photographs put onto cushions, mugs, or many other items besides.
Display them
You may just be content to display your images, so print some off and give them to a local cafe. You'll be happy knowing that many customers will have a chance to see your work. You can also display your photos online through sites such as Flickr, so have a look around and see what works best for you.
Share them
Sign up to a social media website and upload some of your favourite shots. You'll be able to share these with friends and family all over the world, and even with complete strangers depending on the site. Niche communities are always looking for contributors so see where you can get involved.
Store them
Sometimes you simply need to put some of your photographs into storage, whether you're running out of space of you just need to get organised. For my prints, I'll be buying some good albums – I will be spending a lot of time organising them by date. This allows me to flick through them at my leisure. My digital files will be put into folders by year and month.
Look at them
Finally, I think it is important to look at your photographs from time to time. It is really easy to get caught up in taking many more images, but by reviewing your previous pieces of work you might be able to figure out how you can improve. And failing that it is a really good way to reminisce, and put yourself back into a place that you really loved. Although you might find yourself spending money to return there!