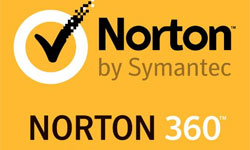 So you have Symantec's Norton 360, but not the 2013 edition. You might wonder what the benefits of
Norton 360 2013
are, and what, if any, drawbacks it has. You've come to the right place. In a nutshell: First of all, the 2013 version of Norton 360 has 5 patented layers of security, doing away with practically any threat you could encounter on the Internet. This means avoiding threats before they ever reach you, lets you shop without your credit card information getting snagged by fraud artists, enjoy social networking sites without worrying about who else is in on your conversations without invitation, or just surf the web without picking up all sorts of unwanted "bugs".
Because Norton 360 2013 is Cloud-based, you can renew or update it on 2 other PC's, or even install it on your smartphone or tablet!
SONAR behavioral protection is on the lookout 24/7 for possible dangers that may not even exist at the time I am writing this. If it looks "funny", Norton 360 2013 will check it out, and if it doesn't trust new functions, it blocks them.
Parental controls are an absolute sanity saver, and Norton SafeWeb for Facebook ensures socializing without sharing viruses and unsafe links with your friends.
Contrary to common chatter, Symantec Norton 360 2013 for Windows does not work with Mac, although a version for Mac is available. It is vital to note this fact.
As much effort and expense as you have invested in your PC and its contents, it only makes sense to invest in the most up-to-date version of Norton 360.