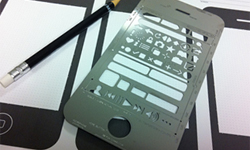 Even the most passionate graphic designers need to break from their projects for meals. Some designers even like to put their projects down and go out for fun once in a while! That doesn't mean the mental wheels stop turning. They never do for people whose work is more than a job. Whenever there's a break in the immediate action, off they go to Project Land, whether they're in the women's room or on a mountaintop.
Project Land time used to be for thinking only. Today that's not the case. With
cell phones
on everyone's hips, there's always an app close by to help professionals of any stripe turn tiny time bubbles to productive uses.
Graphic designers have plenty of choices to get the most out of small time bubbles. While mainline design software packages don't yet have mobile app versions, there are plenty of apps available to help them organize their thoughts, work on components of projects, or hone their design skills.
Font Game
Players won't be working on projects, but they will be getting better at them with Font Game, from I Love Typography. Undoubtedly the king in its genre, Font Game will both test and hone font recognition skills.
The game allows play at three different levels: hard, harder, and really hard. Players will need to know their Baskervilles from their Batangs to succeed at the top level. Better yet, because the "rather difficult" Font Game has a reputation for not crashing, play goes on for hours without interruption.
SimpleMind Touch
SimpleMind's Touch is the mind mapping tool for people that get their best ideas in the worst possible places. It helps get those epiphanies recorded and organized quickly, but it's more than an organization tool. It's a feedback tool. Mind mapping helps organize thoughts, and organized thoughts help restructure the mind for more efficient thinking.
Touch allows users to create bubbles of topics and subtopics and still more subtopics and then expand collapse them easily. Users can create themes with different colors and fonts to identify different levels or branches of thinking and transform mind maps to other formats and email them to friends and coworkers. Remember: failing to plan is planning to fail!
Palettes 2.0
Palettes from Maddysoft is a great on-the-fly working tool. Designers can build palettes or color schemes from the standard color models and existing palettes anywhere, any time. Palettes is always there to work on color ideas or plug away at finalizing the details for specific project.
Pro users can import and export existing palettes from or to a variety of graphic design software packages, and zap them to and from different their iOS device using just about any transfer method ever devised. Perhaps more importantly, working with palettes on a mobile device has a major advantage: designers can load a full screen color swatch and compare it easily to a real-world object.
Color Expert
Color Expert from Code Line is another good palette app. Color Expert lets users build palettes form the color wheel or search colors from the various Pantone series. It also contains tools that extract the top colors form images and let the user drag and drop additional colors to the list. With a unique "snap & tap" feature, it allows users to take a photograph and extract their favorite color from it immediately. Color Expert also allows users to exchange palettes with other applications using Adobe color swatch files.
Prototypes
This handy little app helps designers dry-run animation ideas quickly. Designers generate a mock-up image and then load the image to Prototypes. The app allows them to set up animations quickly and test tap areas. It's great for generating a quick sketch of how an idea will appear on the small screen, and useful for selling ideas to clients quickly.
These are only a few of the many apps out there that designers can load up on their cell phones for those tiny time bubbles. They help creative people sketch out and develop their best ideas whenever and where ever they emerge, and they help them hone their skills to a razor sharp edge. Today, wherever you are and whenever you're there, Project Land right in your pocket!