A picture is enough to express thousand words and that is the major reason, why print advertisement has not lost its charm over the years. Print advertisement can mostly be seen on magazines, journals and billboards to name a few. The basic mantra of advertising is to present something eye catchy and unique to get attention. This post will showcase some of the best print advertisements created in 2011. All these prints are created this way to grab maximum eyeballs. Check out 35 print advertisements listed below and share your views with us.
If you like this article, you might be interested in some of our older articles related to print ads:
Cool Print Advertisements
Tramontina Fish Knives
Tramontina fish knives: Cut faster, eat fresher.

Surfrider Foundation: Aquarium
Only 0.7% of the ocean is protected. Help us keep the ocean clean.

Audi R8: History
Audi R8. A sporty car full of history.

Carex
Kills germs gently.

Real Good Chicken
Real Good Chicken: Hand-glove Hygiene.

The Quebec Federation of Family Doctors: Fall, Hospital, Mirror
In Quebec, more than 3 million people are without access to a family doctor. When someone lack access to a family doctor, all his family suffer.

Stilgraf: Park Bench
Keep your colors in line.

Gerardo Bastos Auto Care
It's always good to check everything. Gerardo Bastos Complete Auto Care.

Mitsubishi ASX Knee Airbags
Half protection is not protection. New Mitsubishi ASX. Knee Airbags included.

German Olympic Sport Federation
If you don't move, you get fat.

France Adot: Young man
Thousands of people owe their lives to organ donors.

Fort: Cockroach
Fort: Cockroach; How do you like it bitch?

Cannes Young Lions
Cannes Young Lions Guatemala. Call for Entries.

(Brave Word) Film Festival
Best Hollywood movies about corruption.

T-Mobile: Talking Heads, Freckles
With T-Mobile, Video chat is so clear as if you are talking to the person upfront.

FP7
FP7: The evolution will not be televised.

Viasat Comedy Film Festival
Check out your sense of humour. Viasat Comedy Film Festival.

Dahon
Dahon: Unfold Your World.

Ford Focus
Ford Focus: Blind service station attendant. The new Ford Focus with nozzle recognition.

Stoica Funeral Services: Once
You only die once. Stoica Funeral Services.

Greenpeace
12% of all bird species in the world are threatened with extinction because they can't adapt to the increasing temperature. That is global warming.

Samsung Galaxy
Local Language Translator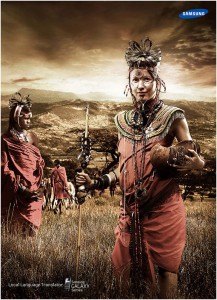 TV2 Farmen: Farmers
Magazine ads promoting the Norwegian reality show "The Farm", where the contestants are sets 100 years back in time, competing to drifting a farm.

Pedigree Adoption Drive: Dog Cage
As time goes by, my chances will only decrease. Please, help me find a home.

Gosloto: Postman
Realize your dream. Bet on May. Russian State Lottery.

Belesana Antiage Center
Let your husband date a younger woman. Belesana Antiage Center.

Etap Hotel: Bad Day, Dog
The best part of your day.

Amnesty International: Cage
This press ad demonstrates how with Amnesty International you can help free innocent and imprison the guilty..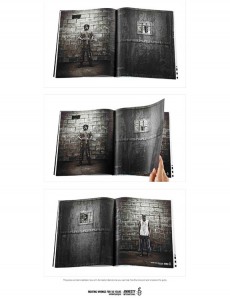 Stopache: Daughter
For headaches of all sizes. Stopache.

Bezeq: Superman
Download movies at 100Mb/s

Helsingin Sanomat: Wedding
Give a wedding gift that lasts long.

Bounce: Switch Off, Dress
Switch off static. Bounce.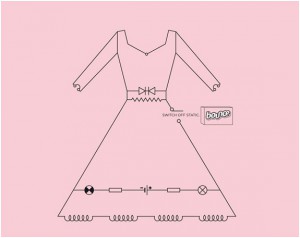 Connect Furniture
Furniture, its what separates us from the animals.

Canadian Dental Association
Not everyone can see it, but your dentist can. Canadian Dental Association.

Anne-Marie Monahan Dog Training
Anne-Marie Monahan Dog Training: Canine Obedience School.