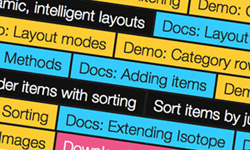 jQuery has changed our point of view towards websites. And with the combination with HTML5, jQuery can creates amazing websites. That's why it's a fascination of our team to find new and useful jQuery plugins. Here are 8 Fresh and Useful
jQuery Plugins
.
This jQuery plugin produces an online code explorer with several functions.
960 Grid on jQuery-Mobile is a port of 960 grid to jquery mobile. This is an useful jQuery plugin to bring more flexibility to jquery-mobile layout and thus make it easier to use on tablets.
jMenu is a jQuery plugin that can create horizontal navigations with unlimited sub-menus.
Isotype is a jQuery plugin for creating dynamic and intelligent layouts. It also helps you to show & hide items with filtering, re–order items with sorting – all done with captivating animations.
jQuewy

jQuewy is a simple, efficient, and lightweight loader for JavaScript functions, having a powerful CDN-ready backend.
Sausage is a jQuery UI widget for contextual pagination.
ImageLens is a jQuery plug-in to insert lens style zooming effect to an image.
This jQuery plugin is a new approach to enhance web time picking.