Typography is the art of positioning, designing and modifying typefaces. Creating a well designed typography poster is not a easy task, and takes time and patience too. When a poster focuses only on typography as its main element, the designer has to carefully create his design to make sure that the type is both legible and artistic at the same time.
Typography posters are a type design in the manner but are posters on some topic. This poster based on some topic has a typographic design approach. In this amazing collection, you will see typography posters created by designers from all over the world. So, here are 30 awesome examples of typography posters that you will probably found inspirational for your future project work. Let's begin!
Before you start, you may like to read our previous related articles:
Inspirational & Beautiful Typography Posters
The Cult of the Ugly

Most Of the Clients Don't Know What Typography is!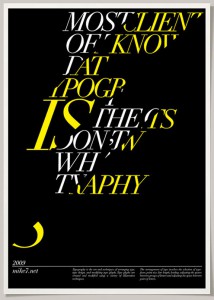 The Past and the Future Make the Present Inspiring

Punk

The Cult of the Ugly 2

Now a days, from print to packages to web design and pretty much all other media that you can think of, typography always plays a big role. Not only can good use of typography add to your design from a visual standpoint, it can also play an important role in defining the hierarchy of the content. It is the art and modus operandi of arranging type in order to make language visible, artistic and more beautiful. This arrangement of type consists of choosing the right typefaces, its point size, line length, leading (line spacing), bending the spaces between groups of letters and adjusting the space between pairs of letters. Experimental typography is defined as the unusual and more artistic approach to setting type. If you were to create your own design, what would you type on it? Which fonts would you use? Tell us…0r share your opinion of this showcase with us via comments!