It's so irritating that you are scanning a website and error blank page appears several times. It's knowing and remembering that sometimes we enter wrong URL and end up in the wrong page. So for those few times when something goes wrong, it's much better to see something nice. Because we simply love to see a cool and creative 404 error page. So few weeks ago we've showcased some really cool and creative error 404 pages. Now we decided to do so again. Here are 35 really creative error 404 page you will find attractive.
Really Creative 404 Error Pages
Gnolia

Shelf Worthy

Dailymotion Cloud
Deliciously Creative

Impact Ideas

Frye / Wiles

Bright Kite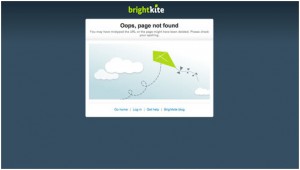 Cuoma Design Studios

Which error 404 page do you like most, share us via comments!